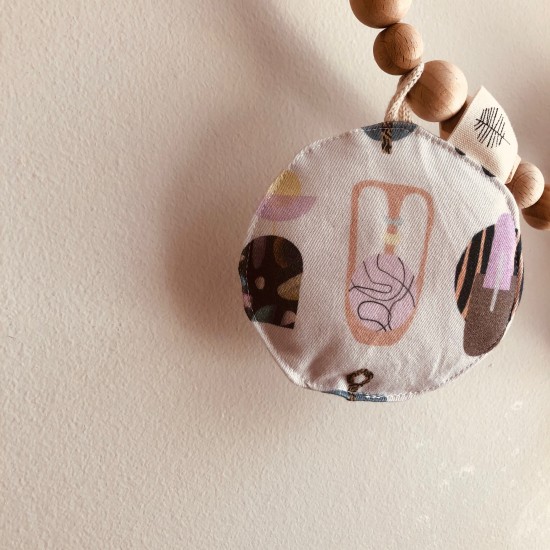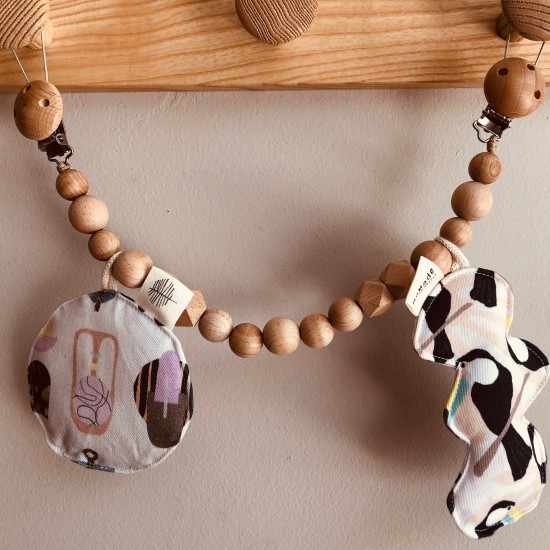 HoM x NokNok Stroller Chain |Toucan
Noknok & House of Myrtle proudly presents "Toucan" stroller chain in our collection.
A stroller chain made of round, hexagon and different sizes wooden beads together with natural cotton hanging decorations, handcrafted with minimal and sustainable way for little babies to explore new colors, shapes and textures. Great gift for baptism or birth, or just to bring joy to your baby. Could be attached on both sides with two wooden clips directly to the stroller or baby basket.
Includes:
1. 100% natural wood beads.
2. 100% natural cotton hanging decorations (lolly & circle) with water-based print colours.
3. Length almost 40 cm.
4. The cord is characterized by a high tear resistance and complies with the directive DIN EN 71. It is ideal for stroller chains and pacifier chains.
5. Do not sterlized.
6. Handcrafted in Athens - Recommended 0+
* House of Myrtle brings to life a new generation of maternity and baby fashion by integrating minimal, contemporary and sustainable design into unique collections. Based in Athens, Greece the brand was conceived as a creative experiment bringing maternity accessories into the realm of fashion infused with a deep love of all things natural and practical.
Safety:
Use stroller chains only under supervision. The wooden clips are provided with the prescribed three ventilation holes. Attention: Risk of strangulation due to cords.This product is NOT a toy. Adult supervision is required at all times. To prevent possible injuries from tangled, the pram chain must be removed when the child begins to try to crawl on all fours. Adults & ages 4+ may be able to break with force, baby use only. Discard at first sign of damage.