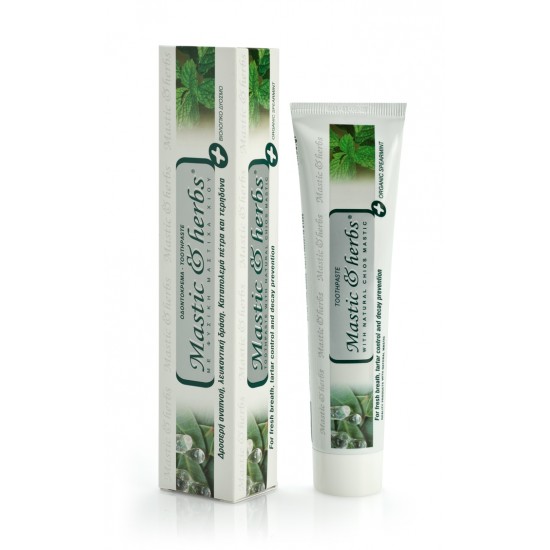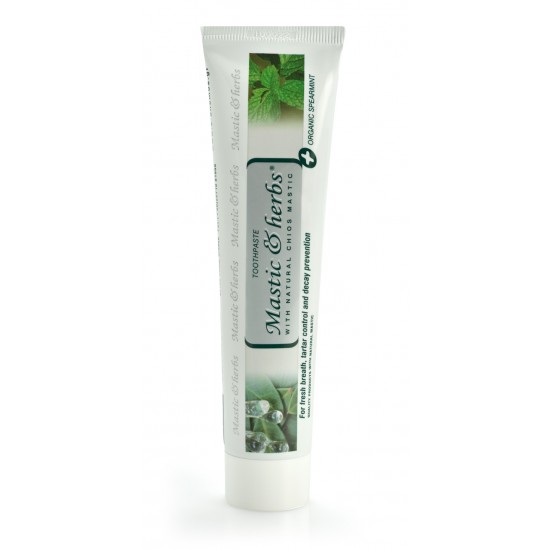 Sold Out


Toothpaste Mastic & herbs with mastic & Bio spearmint - WHITENING
Top quality natural toothpaste- Toothpaste with pure mastic oil and bio spearmint without fluoride.
Whitening. For fresh breath, tartar control and decay prevention. Top quality toothpaste with mastic and spearmint. We combined the therapeutic properties, the powerful antibacterial and antifungal activity of mastic and the properties of carefully chosen special ingredients.
Gentle to your teeth, gentle to your gums, vicious to microbes and bacteria. A dental paste with pure mastic oil and organically grown spearmint for a cool, fresh breath, tartar control, and decay prevention.
This special toothpaste whitens and fortifies the teeth, prevents decay, prevents tartar formulation, protects and strengthens the gums, kills the bacteria and microbes!



INGREDIENTS:
Sorbitol, Silica, Aqua (Water), Xylitol, Xanthan Gum, CI 77891 (Titanium Dioxide), Sodium Lauroyl Sarcosinate,Commiphora Myrrtha Resin Extract, Salvia Officinalis (Sage) Leaf Extract, Salvia Officinalis (Sage) Oil, , Bisabolol, Citrus Aurantium Amara (Bitter Orange) Flower Water Distilate, Glycerin, Polysorbate 20, Pistacia Lentiscus Gum (Mastic oil), Potassium Sorbate, Sodium Benzoate, Dehydroabietic Acid, Allantoin, Aroma (Flavor)

FREE fr

om:

Fluoride free, SLS free, Parabens free, Without artificial sweeteners, Without ethyl alcohol

97.9% of natural origin!

Suitable FOR HOMEOPATHY.

Greek product.

In a tube. Content: 75ml

WE TURN THE TAP OFF WHILE BRUSHING :)
MASTIC: Nature's miracle. A natural product of Chios, unique in the world known from the ancient times for its therapeutic properties. Scientific research has proved that mastic has antibacterial and antimicrobial properties. Recent clinical studies confirm that it helps to keep the gums in healthy condition, contibuting to the prevention of gingvitis. The combination of mastic oil with the active ingredients of this toothpaste, helps to maintain healthy teeth, without decay.
Some facts:

We use a hygienic plastic coated tube with a large top cover so that the toothpaste can be stored upright saving space.All the 100ml (or less) products can safely and legally be taken abroad a plane in your personal handbag.

We use a hygienic plastic coated tube with a large top cover so that the toothpaste can be stored upright saving space.

Ingredients of our toothpaste: We researched a great deal, and we have come out with a careful balance of pure ingredients and some light "chemicals" so that the toothpaste will be safe, and as natural as possible but effective.

Sorbitol: Humectant. They retain water and help maintain a consistent paste-like quality in the toothpaste, preventing a separation of the liquid and solids in the toothpaste.

Silica: A mild abrasive that will not harm the enamel of the teeth We do not use cheap harsh abrasives because tooth enamel never regenerates

Aqua: Distilled water

Sodium Lauroyl sarcosinate: detergent

Pistacia Lentiscus (mastic oil): Nature's miracle. The unique in the world mastic is a natural product of the Greek island of Chios. It is well known from the ancient times for its therapeutic properties. Scientific research has proved that mastic has antibacterial and antifungal properties. Clinical research has shown that mastic reduces plaque and drastically prevents the formation of new plaque offering excellent tartar control and at the same time it prevents tooth decay. Mastic oil accelerates the healing of mouth ulcers and due to its antimicrobial and antifungal properties, it prevents stomatitis and mouth infections.

Mastic oil gives a pleasant and long-lasting fresh breath. It even possesses some painkilling properties in case the teeth are affected by decay.

Xylitol: a non-sugar sweetener with a pleasant taste, which reduces levels of cariogenic (decay causing) bacteria in the mouth and enhances remineralization. It actually neutralizes the acids that cause bacteria.

Xanthan gum: A thickener that creates the texture of toothpaste

Titanium dioxide: A white coloring agent.

Glycerin: is used to make paste creamy and it sweetens at the same time.

Mentha aquatica: It gives a cool, fresh taste to our toothpaste.

Mel: honey extract

Potassium sorbate: antiseptic agent

Dehydroabietic acid: preservative

sodium benzoate: A preservative so that the toothpaste would not have to be refrigerated.



We do NOT use:

Fluoride* which possibly prevents tooth decay but also has potential harmful effects because it:

inhibits enzyme system
causes breakdown in collagen resulting in periodontal degeneration and
results in dental fluorosis

*Fluoride, in any case, is normally taken in with the water and with the food we consume

We do NOT use "sodium pyrophosphate", (a tartar-control ingredient) because may cause tooth sensitivity.

We do NOT use "triclosan" which is accussed of causing cancer

We do NOT use "sodium lauryl sulphate"

Most of the toothpastes in the market contain sodium lauryl sulphate (SLS) which is potentially harmful. It acts as a detergent, an emulsifier and a wetting agent with the following potential harmful effects since it:

Can irritate oral membranes,
causes protein denaturation, resulting in Canker Sores and Allergic Stomatitis
dissolves enamel mineral and
can be retained in the eye, brain, heart and liver.

Due to the above adverse effects we do NOT use Lauryl sulfates. Instead, we use an equally effective detergent (Sodium Lauroyl sarcosinate) which is much better and it is not accused of adverse effects.

Mastic oil replaces the action of the above ingredients safely and more effectively.

Our products are not tested on animal and they do not contain any ingredients derived from animals.

This product is suitable for homeopathic use. All ingredients used are allowed in homoeopathy.

A 1985 study by the University of Thessaloniki discovered that mastic can reduce bacterial plaque in the mouth by 41.5%