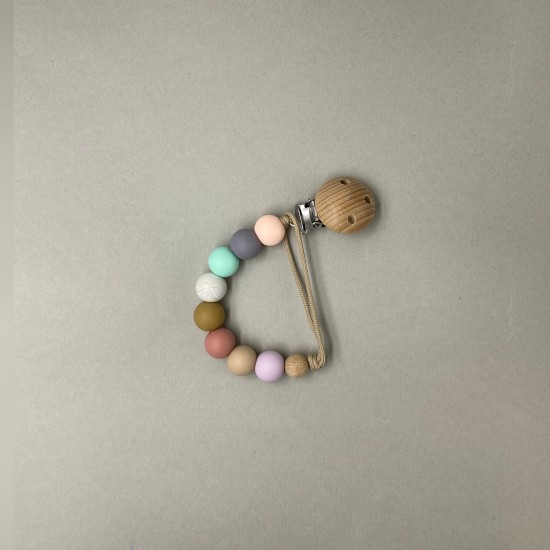 Pacifier Clip | Horizon
Pacifier Clip | Horizon is made from earthy tones beads and you can combine with Mum Teething Neckalce | Horizon and Teether | Horizon.
https://www.noknok.gr/play-teether-masitiko-baby-noknok/teether-masitiko-ksilo-horizon-moro-paixnidi-noknok


Cool & ecofriendly pacifier clip with beads will avoid baby from losing his/her pacifier.
Clip in one end and satin 2mm cord in the other.
Suitable for pacifiers with ring or you can buy adapter for the ones don't have.
100% food grade silicone

FREE OF: BPA, PVC, Phthalates, Lead, and Cadmium

Easily cleaned with warm soapy water and left to hang dry

Stainless steel

16cm long

Do not sterilized




Ηandcrafted in Athens – Recommended 0m+
+ Adult supervision is required at all times. Teethers are created with secure knots. Adults & ages 4+ may be able to break with force, baby use only. Wash before first use. Discard at first sign of damage.